Sonja van Kerkhoff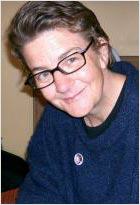 • Keywords – inner-outer-will-choice-consciousness-(dis)connection
• Werd geboren in 1960 in Hawera, Taranaki, Aotearoa / New Zealand en is sinds 1989 gevestigd in Nederland
• Home within-kainga a roto: ruimtelijke installatie met video's en geluiden die door de bezoeker wordt binnengetreden waarin een deels bekende en onbekende binnen- en buitenwereld wordt ervaren in de persoonlijke relatie tot natuur en cultuur. 'My approach in creating a boat-shaped intimate enclosure where visitors can feel the textured carpet through their feet is a metaphor not only for the ship my father took as a migrant, but also a metaphor for a body always on the move. Body and canoe and family are all related symbols in Maori culture. Maori people trace their belonging to their tribal area, but also to the canoe which brought their ancestors to New Zealand. ""My canoe is a land you enter, feel and hear.
A womb or a spirited place you are within, pierced by video port-holes.
Sonja has a statement here which elaborates more on her work in connection with this project."